Mozirajongóktól mozirajongóknak
Dream Cinema bemutatás
2013. augusztus 16., péntek, 15:00
DREAMCINEMA Kaleidescape Digital Projection Screen Research Screen Innovations mozivászon házimozi házimozi projektor filmszínház bemutató szalon Dream Cinema DREAMCINEMA
They call it "The Big Room" which is truly mind-blowing.
Before you, Dear Reader would read any further, we suggest you take a quick look at the photos! The room looks spectacular. All the gears are flush mounted in the rear wall. Having peeped into the hidden screening area we saw some pretty nice cable management job done the right way. Sometimes it is neglected or overlooked!
There is no need for elaborating on the construction of the room. The shots of this 'Classic Cinema' speak a thousand words.
In these hand-made, top-notch quality Cineak home theater seats made of the finest leather with contrast-sewing, 3 motors provide the luxury comfort, separately offering adjustment possibilities for the seating/footrest-, the back-, and the headrest. Moreover, its perforated finish can also be heated or cooled, if desired. So can the cup-holders! However, what really caught us in these seats was that these are not ostentatious and swelling seats onto which one sits carefully, but they are out and away an inviting nest. The true fact is that we have not reviewed theater seats so far, but now, we are giving serious thought to doing so. For example, it would be a pleasure to test these. Speaking of seat movements. As the headrest and seat move backwards as if expecting a nice massage from someone we get to see the boarded star ceiling above us. Interestingly, this strengthens the illusion and we almost believe that we are sitting under the starry sky and not in a house with the sun shining on the roof. We re-lived this kind of experience later on again when we got in our car that had been boiling to 60 degrees Celsius on the sun. We would have been better off staying and watching a few more movies?
On the front wall, hidden behind a motorized curtain, there is a THX Ultra2, JK and ISF certified, acoustically transparent, fixed, 138" wide, 2.35:1 aspect ratio Stewart Studiotek 130 G3, CineCurve screen in an elegant Deluxe velvet frame. It is everything but an entry level stuff. Well it surely needs to be since the light source is a 1080p HighLite 660 from Digital Projection. Better to say it shoots rather than projects! At least there is no other word for what we saw here. Depending on the application, two lamps (can) work in the projector, totally enchanting the picture on the screen, like the best plasma TVs. Of course, had there actually been one next to it, we would probably not write this, but it is not an exaggeration to say that the contrast and brightness of the picture are unlike anything we have seen so far!
Needless to say there is a Cinomorph C-150R anamorphic lens in front of the projector to fit the aspect ratio of the screen provided by Prismasonic, which is available with a remote control by default.
Flagship Stealth Edge in-wall speakers from MartinLogan were mounted behind the screen and in the sound pillars on the walls. We feel important to emphasize that the type of the special silk used to cover the speakers is one of the highest quality available for it neither alters nor deforms the audio. The 7.2 surround system was backed up by 2 Paradigm Sub 15 subwoofers for ground-shaking LFEs.
The role of the pre-amplifier and processor is fulfilled by an Anthem Statement D2v 3D. An Anthem Statement P5 powered both the center and all 4 surround speakers while the 2 fronts were driven by an Anthem Statement P2 exclusively. Beyond a set top box and a HDI Dune HD Duo media player they have got something else which is phenomenal and must be introduced in a separate article!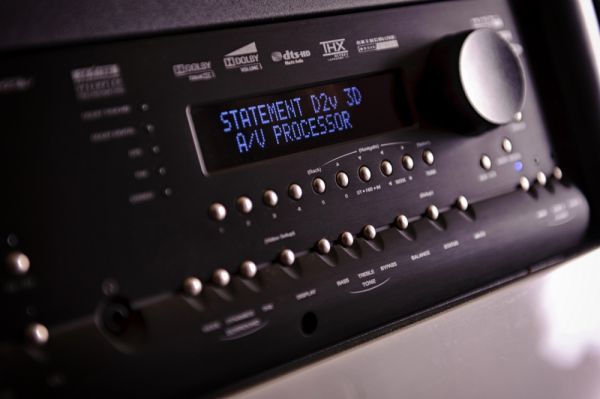 The Kaleidescape M700 Disc Vault and 1U server. Apart from the spectacular demos these guys are the ones making us really appreciate DREAMCINEMA. Besides movie collectibles all over the house, that is exactly what represents their devotion to movies.
So what is it exactly we are raving about here? It is a movie server based on our CD/DVD/Blu-ray collection. It houses as many as 320 pieces of Blu-Ray discs in a carrousel, reads and stores (or, as Kaleidescape calls it, "imports") a bit-for-bit copy of the discs onto its 16TB hard drive capable of serving Blu-Ray discs to up to 9 zones simultaneously. Kaleidescape provides the services of the most advanced media servers, moreover, it outruns them big times. The interface is intuitive and looks spectacular. You can choose a movie from the covers-, the list-, or the collection view or you may browse the genre, the directors or the actors. The system combines the convenience of a network based playback system with high definition audio and video of Blu-ray discs. We are not getting into details how they vary from other NAS based system often found in home theaters!
For sure we are going to return soon in order to test and introduce the system and players of Kaleidescape in great detail.
It is not just the rooms alone that are interesting in DREAMCINEMA's Demo House. The built-to-suit building has a house-automation system, capable of controlling blinders, HVAC and home cinema gears just to mention a few.
Let's not forget that installing a home movie is no longer about a single room. With its cooling and heating requirement it is one of the most important hub of the LAN that integrally accommodates to other systems in the house as the largest consumer and supplier of DLNA contents. The most complex and, in several cases, the most often used premises of the whole house is the dedicated home theater or the living room in which there is the movie. Therefore, if requested, the company's experts are involved even in the planning phase of a house or, other times, they are asked to recommend suitable home entertainment solutions or 'create' excellent picture and sound in house completed already. All is upon the client's needs.
We have just started getting acquainted with DREAMCINEMA's saloon. For the first run, our attention was rather captured by the shocking variegation unlike anything we have experienced so far. As if we had visited three separate companies able to meet the highest requirements. Like so many times, we could go deeper in details for pages. However, we are not doing it this time for we know, we will come back. We look forward to getting to know all the products imported and distributed by DREAMCINEMA. The projectors of Digital Projection, the screens of Screen Research and Screen Innovations and Kaleidescape are brands we have not heard of before. These are offered by DREAMCINEMA only. We can?t wait to have the opportunity to report on other interesting things.
You don't necessarily have to wait for the upcoming article. Those, having pulled the plug on going for a home movie already or those still hesitating, and would like to experience a real home cinema first, or those simply wishing to get a customized solution for the living room, should not hesitate to turn to the professionals of DREAMCINEMA. In gorgeously built mock-up rooms surrounded by high quality AV equipment you can discuss your wishes, requirements, or plans with them.
DREAMCINEMA has set bar for everyone!
További cikkek: